Discovery Day Camps

If you are looking for something new for your kids to "beat summer boredom", we have the perfect solution for you!
Our goals:
1. Have Fun!
2. Learn something new!
3. Make new friends!
Discovery Summer Camps are the perfect balance of educational activities, daily crafts, games and outdoor fun! Our camps are guaranteed to keep your kids stimulated and engaged in a fun, small group environment. Kiddos will have opportunities to further and develop imperative skills; preventing "summer brain drain," and preparing them for success in school. With a variety of different activities to accommodate various learning styles, children have the opportunity to circulate through centers. Our centers incorporate literacy, math, problem solving, creativity, gross motor and fine motor skills. Reading comprehension, reading fluency, phonics , printing practice, descriptive story writing, science, geography and math skills are enforced through games and activities. Each weekly theme includes take home crafts, games, and a cozy reading tent full of books. Our camps provide children with an opportunity to learn based on their area of interest. Discovery kids is a unique opportunity for children to keep their skills sharp over the summer, make new friends and explore different themes. All Discovery camps are planned and implemented by a certified AB teacher (B.Ed).
If you're looking for something with some structure, want your kids to have fun, and learn something new, this is the summer camp for you!
Prices: $40/child /day (second child from immediate family $35/day), 5 consecutive days $190/child, second child $165
Camps run from : 12:30-3:30 (after camp is available for an additional fee and upon demand.)
CAMP DESCRIPTIONS:
Superheroes:
Calling all superheroes! Wear your favorite superhero costume, and join us for some fun! Play the "Guess Who Game", write a story about your own super hero, or a story about the Avengers. Try some Wonder Woman math, Superhero basic facts, or work together and crack the code in a Detective superhero mystery! Play sight word bingo, make your own super hero cuffs or a superhero mask. Play superhero tag or try the superhero obstacle course. Design your own comic strip, create a night sky inspired by Vincent Van Gogh, or read about your favourite superhero in the cozy reading tent. All Superheroes receive a superhero training completion certificate at the end of the week!
June 28, 29, 30, Aug 2 2021
Rainforest Jungle/Safari
Calling all animal lovers and adventure enthusiasts! Explore jungles around the world. Discover the different layers of the rainforest, read about endangered animals, make a cool Amazon diorama and write about your favorite jungle animal! Learn about the importance and the products we get from the rainforests. Make a collage using rain forest products and try an experiment demonstrating water vapour. Kiddos will learn about deforestation and gain an understanding of how it affects all of us. Practice drawing jungle animals, make a Toucan or a monkey craft. We even go on a short safari adventure, just to see other animals that are different than in the jungle!
July 5-9 2021
Around the World:
Grab your passport and take a trip around the world! Explore 10 different countries and learn a little bit about each of them.
This camp is packed with fun activities to explore culture, geography, famous landmarks, geography and much more! Make an Egyptian Pyramid, Chinese Lantern ,
Eiffel Tower, a traditional African mask or a Gondola from Venice just to name a few of the choices! Practice recognizing and locating countries, continents and oceans. Play the "Around the World" Phonics game, take a look at different currencies or play "Match the Country and Flag game". There is something to capture the interests of all children. All kids collect different stamps for their passport and take it home for a keepsake. What a fun way to explore multiculturalism!
July 12--16 2021
Jr. CEO:
Help us set up and run our own lemonade stand! The Young Entrepreneurs of the JR. CEO program is a huge hit! Kiddos learn valuable resources for running a business both not-for-profit and for profit organizations. Last year, our Lemonade Stand raised $630.50 in July, and $1230 in August, for a total donation of $1860 for the Children's Hospital! From set up to take down, this is a fun camp that encourages entrepreneurship skills. Incorporating both team building and leadership through games and activities, kiddos work together to plan and run a lemonade/popcorn stand. Organizing supplies, writing a business plan and learning about budget, costs and profit are all part of this camp. Explore your creative side with advertising and making posters. Strengthen your math skills, as we practice counting money. Most importantly, experience how awesome it feels to give back to the community, as we donate the lemonade stand's profits to Children's Hospital! This is an excellent opportunity for kids to gain a sense of fund raising and giving back to the community. Join us for a backyard wrap up celebration following take down and clean up on the last day!
Please note: kids will be outside selling lemonade and popcorn for the majority of Wednesday, Thursday and part of Friday. Please ensure children are dressed appropriately for the weather, bring a snack/water, sunscreen/bug spray and anything else they need!
TBA
Dinosaurs and Space:
This week is the perfect mix of science fun! Learn all about dinosaurs, dig out a dinosaur fossil, or create a scene in a Dino Diorama. Discover interesting facts about these creatures from long ago, write a story about having your own pet dinosaur, try and duplicate dino bones out of dough, or make a plant eating dino collage. Help us build and erupt our very own volcano using baking soda and vinegar. Try some dino multiplication, the dinosaur measuring center or review area perimeter . Play T-rex tag and other prehistoric games. Join us for out of this world fun! Make a solar system model, learn all about the different planets, the moon, sun and stars. Try the Asteroid Throw, or Guess What Planet I am Game. Play Catching The Stars , or try the interactive microscope. Experiment with space slime or play the space phonics game. Construct a spacecraft using various different materials, write a postcard from space, or make a planet travel brochure. Practice your Mars multiplication facts or blast off with division and place value.
TBA
Pioneers/Railways:
Learn about a day in the life of a pioneer and explore how life was then and how it is different now. Make an old fashioned paper doll craft, a covered wagon, or your own mini log house. Try making new words with train phonics or a train place value activity. Play some train games and make your own train using different art materials! Research train parts, types of trains and make a train collage. Help us make old fashioned butter. Work with a friend to complete reading and math activities that simulate the planning a difficult trip down the Oregon trail, just like the Pioneers did. Play old fashioned games including: Chore Charades, Marbles, Blind Man's Bluff or Poor Doggy just to name a few! Kiddos will gain an understanding of the challenges settlers faced and will hopefully appreciate how machines and technology make our lives easier!
TBA
Mermaids/Pirates and Life Under The Sea:
Imagine you're a mermaid or a pirate and write a story about it. Make a mermaid bookmark or design your own pirate treasure map.
Play the "Ar Matey" phonics game, or try skip counting while walking the plank. Meet Lips the fish and Skippy Dolphin while learning some fun reading strategies.
Go on a scavenger hunt or make some fun pirate patterns. Try some mermaid math or play "Sink or Swim". Read about real famous pirates, The Little Mermaid,
or life under the sea. Help us with a fun science experiment using seashells. Make a pirate patch, your own compass, a magic mermaid wish bottle or a sandpaper starfish. All mermaids and pirates receive an "Honorary Pirate/Mermaid Completion certificate" at the end of the week!
TBA
Please send your children with a nut free snack and water. Children should be dressed appropriately for the weather, as outdoor play is incorporated. Feel free to send sunscreen, bug spray and whatever else they need!
Summer camp makes lemonade for a cause
Local youth had the chance to learn what it takes to run a business while supporting a worthy cause, thanks to a summer camp put on by local teacher and tutor Christine Allaby.
Jul 31, 2019 3:00 PM By:
Nathan Woolridge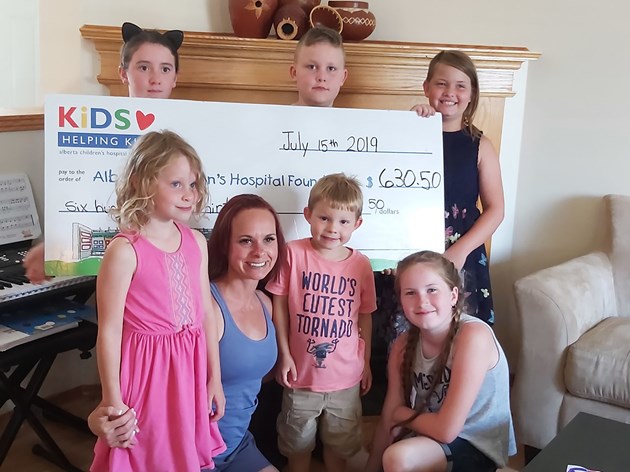 Christine Allaby organized a lemonade stand for the kids in her summer camp to show them the spirit of entrepreneurship and giving back. The kids raised more than $600 for the Alberta Children's Hospital. Photo Submitted/For Rocky View Publishing
Local youth had the chance to learn what it takes to run a business while supporting a worthy cause, thanks to a summer camp put on by local teacher and tutor Christine Allaby.
Discovery Summer Camps' aim is to help children have fun while learning valuable skills over the summer, Allaby said – and her recent themed program Jr. CEO saw participants opening a lemonade stand and donating their profits to the Alberta Children's Hospital (ACH).
"The whole idea is to incorporate some really fun, educational themes and have the kids engaged, but still learning, over the summer…. It's all about entrepreneurship and learning about what it's like to run your own business," Allaby said. "What we did was a lemonade stand [and] the kids had to figure out in terms of supply [what] we would need."
Participants were involved in rounding up the supplies, figuring out the location and determining the price of their lemonade, according to Allaby. And, thanks to the community's support while the lemonade stand was open July 8 and 9, she said, the team was able to raise more than $600 for ACH.
"It just exceeded my expectations," she said. "All I can say it was really exciting and I was shocked."
On the second day, according to Allaby, the team ran out of lemonade and she ran out to pick up more. When she got back, she said, the stand was busy – the kids had enlisted the assistance of some RCMP officers who had stopped by, to help out by promoting the business.
"The RCMP were amazing. They came out and they were recruiting customers for us and helping the kids," Allaby said. "The police officers actually went out holding a sign trying to get more traffic in. They were completely supportive, and we really appreciated their help."
She said she was happy to see the community come out and support the kids and the ACH, adding the hospital has been an organization she's supported for years.
"I think it's important for the kids to learn about giving back. They learned how awesome it is," she said, noting the event was an opportunity to have "kids helping kids."
Allaby said the team didn't fully understand the extent of their earnings, at first, until they were recognized for their contribution. A representative from ACH provided the kids with a giant cheque to be presented to ACH for the amount they raised.
"She talked about how the money's going to help all the kids," Allaby said. "It was really neat to see how the kids were engaged and they were learning so much…about giving back, and they were learning about how hard it is to run your own business."
Additional themed camps will be offered throughout the summer – such as dinosaurs, space, railways, jungle, mermaids and pirates, along with an around-the-world camp at various times and dates.
To find out more, visit
mouldingminds.com/educational-camps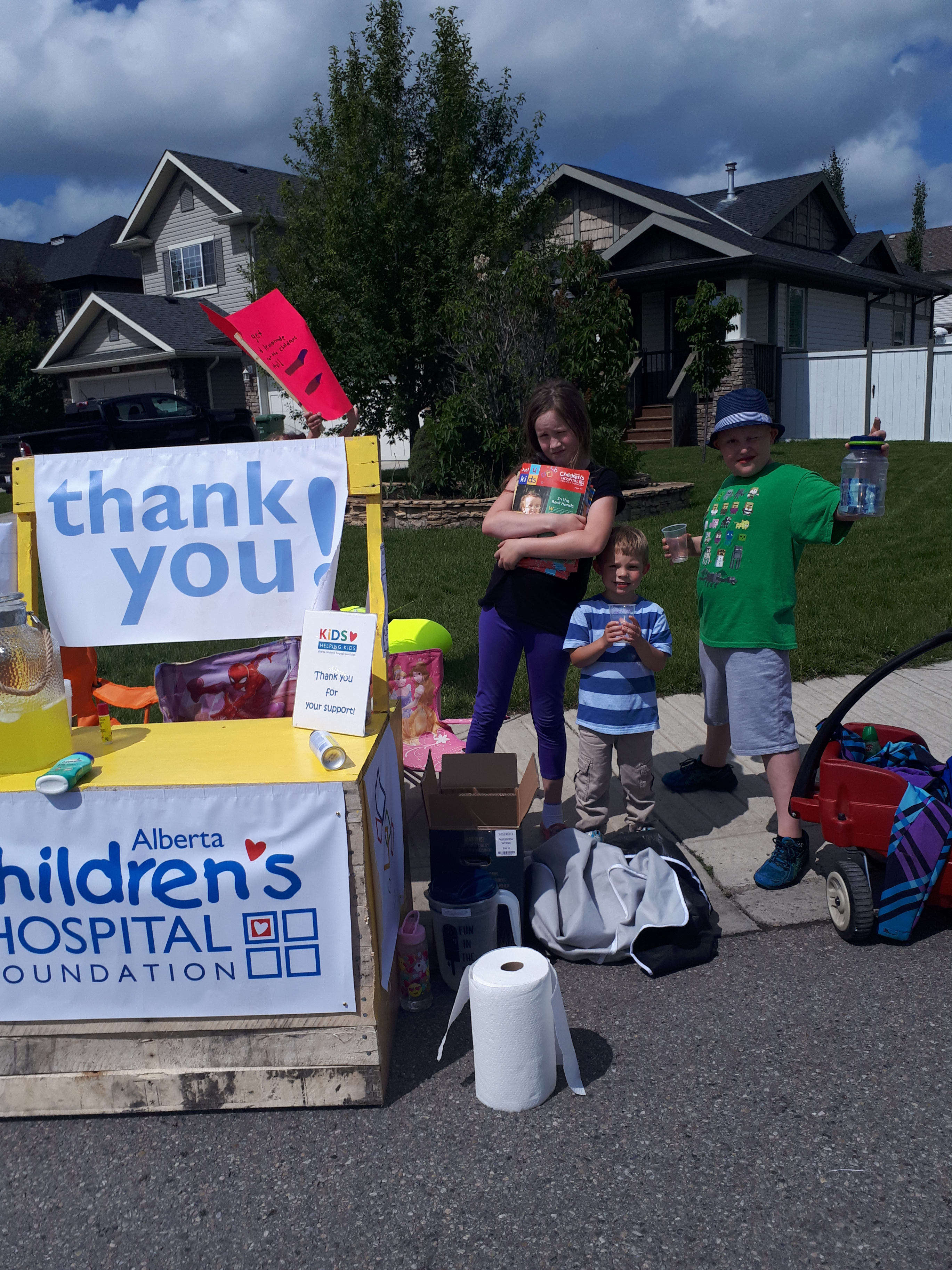 Article Published by Discover Airdrie
Category:
Local News
Published: Friday, 12 July 2019 07:03 Written by
Sam Pike
The hardworking children managed to gather $630.50 to donate to the Children's Hospital
From the ages of 5-12, most children are obsessed with toys, sports, treats, t.v, and video games. However, for a group of children running a lemonade stand recently, learning important lessons of entrepreneurship is more important.
Discovery Summer Camps ran a lemonade stand for two days, selling lemonade and popcorn for a dollar a pop. And, with the hard work from the children and leader Christine Allaby, it turned out to be a huge success.
"The kids really worked so hard, they had a ton of fun and they learned a lot. They came out $630 dollars in two days," said Allaby. "It exceeded my expectations. It was amazing, I don't even know how we did that."
While most other children were spending their summer goofing off, the children at Allaby's camp were learning important life skills that come along with running the lemonade stand
"They had to figure out what we were going to need in terms of supplies, we had to discuss location, job responsibilities, all that kind of stuff. They made posters to advertise. Then, we talked about where the money was going to go and how it was going to help a lot of kids."
The $630 raised had to go somewhere that would not only show the children the importance of donating to a good cause but somewhere that each of them would be able to identify with.
"I read some stories to them and all of the kids had a personal experience with (the Children's Hospital). I mean, what parent hasn't been to the Children's Hospital," said Allaby. "We just talked about how it cost a lot of money to keep that facility running and for it to be so amazing."
Allaby said that the skills the children learned would prove useful on their path to adulthood.
"I think it's really important. I think fundraising is important, I think it affects the community, and we did it in a really fun, cool way. So, they were learning math skills, they were learning teamwork, we had to talk about money and making change, customer service. I think they learned a lot."
Along with basic math skills, salesmanship, advertisement and, of course, old school bargaining, the lemonade stand required a good amount of work ethic that Allaby said the children didn't expect.
"I think they realize, especially the ones that came for both days, how much work it was. They realized sitting at the lemonade stand on my driveway wasn't going to attract enough customers and we need to figure out a better market in order to have better sales. So, we had to move the lemonade stand down the street so all the kids and I moved everything, all our supplies, out there. They worked pretty hard, they were all pretty exhausted."
Although a great amount of money was raised for a two-day operation, Allaby said the little workers didn't quite grasp how incredible it was.
"The parents were just thrilled and completely supportive. I think when we discuss it again, when they get presented with that cheque and when a lady from the hospital comes and explains how this money is going to help, I think that will drive the point home."
Allaby said Airdrie did a great job in teaching the kids the importance of generosity as well.
"There was a lot of support. There were a lot of people, especially the second day, that just drove by and handed the kids ten dollar bills and twenty dollar bills."
Moving forward, the children will present the Children's Hospital with the donation on Monday.
Allaby plans to run the camp again near the end of August, hopefully from August 28th to the 30th. She hopes to take all the things learned from this experience and make the next one even more successful.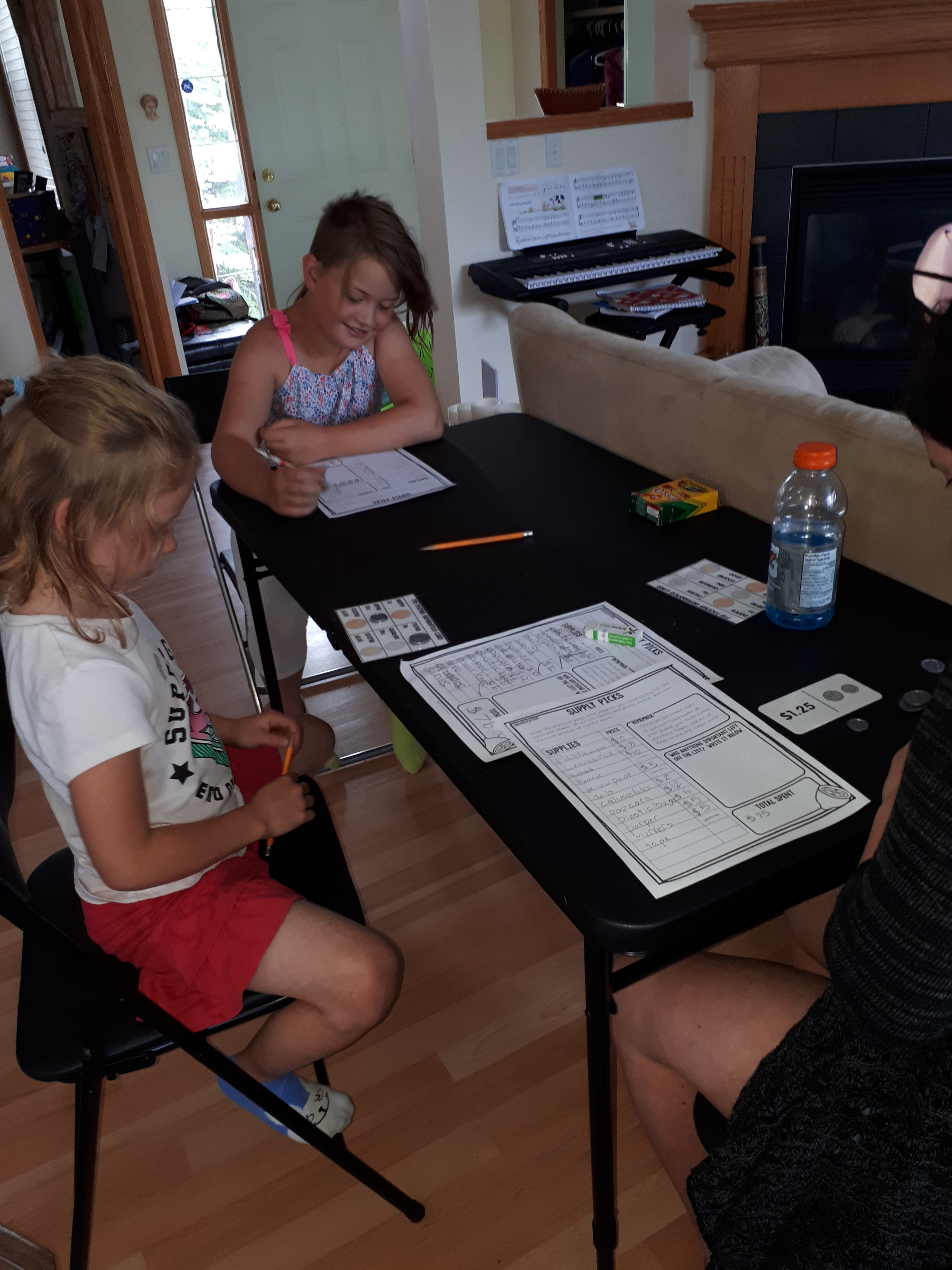 Learning the value of money!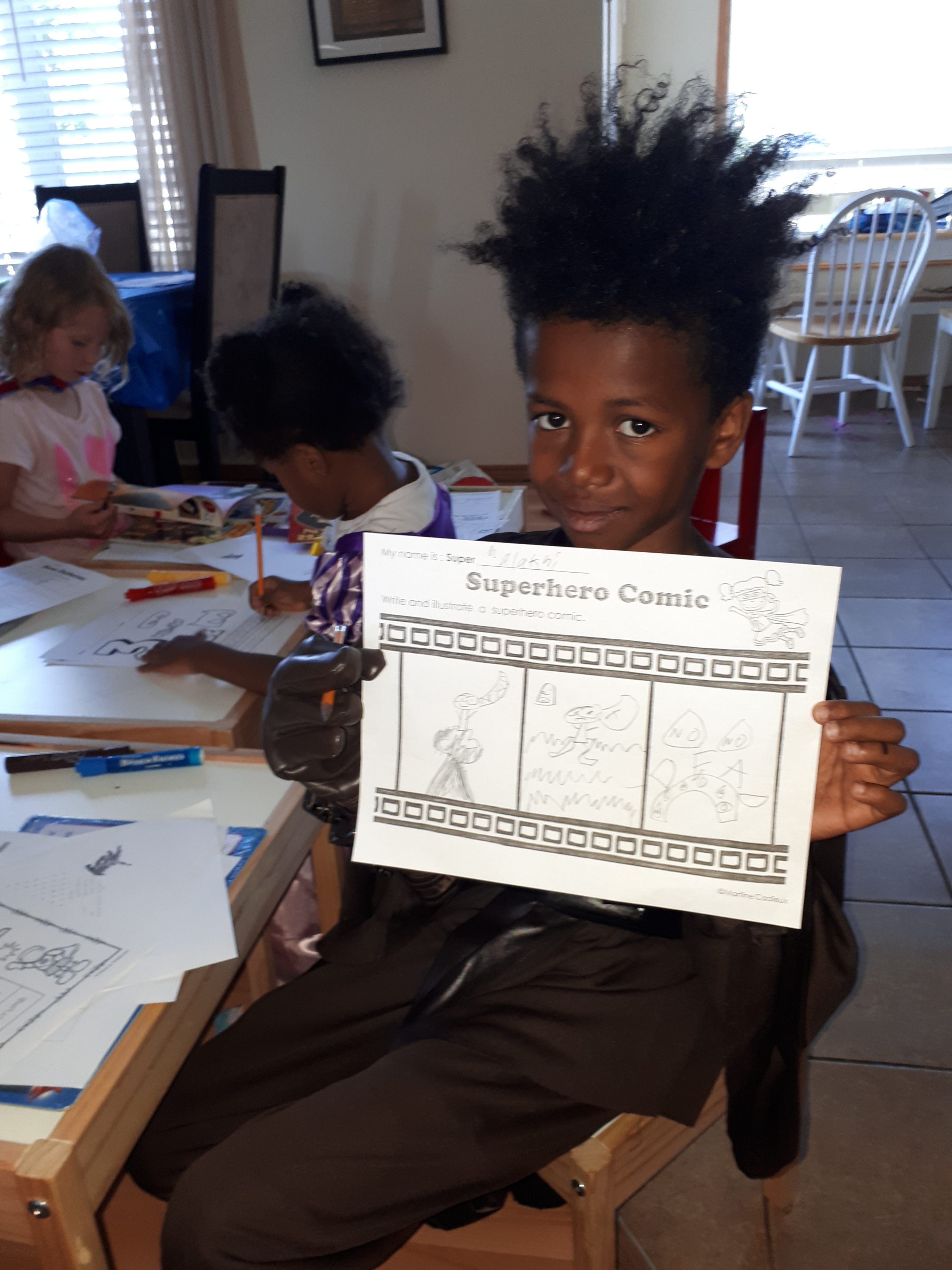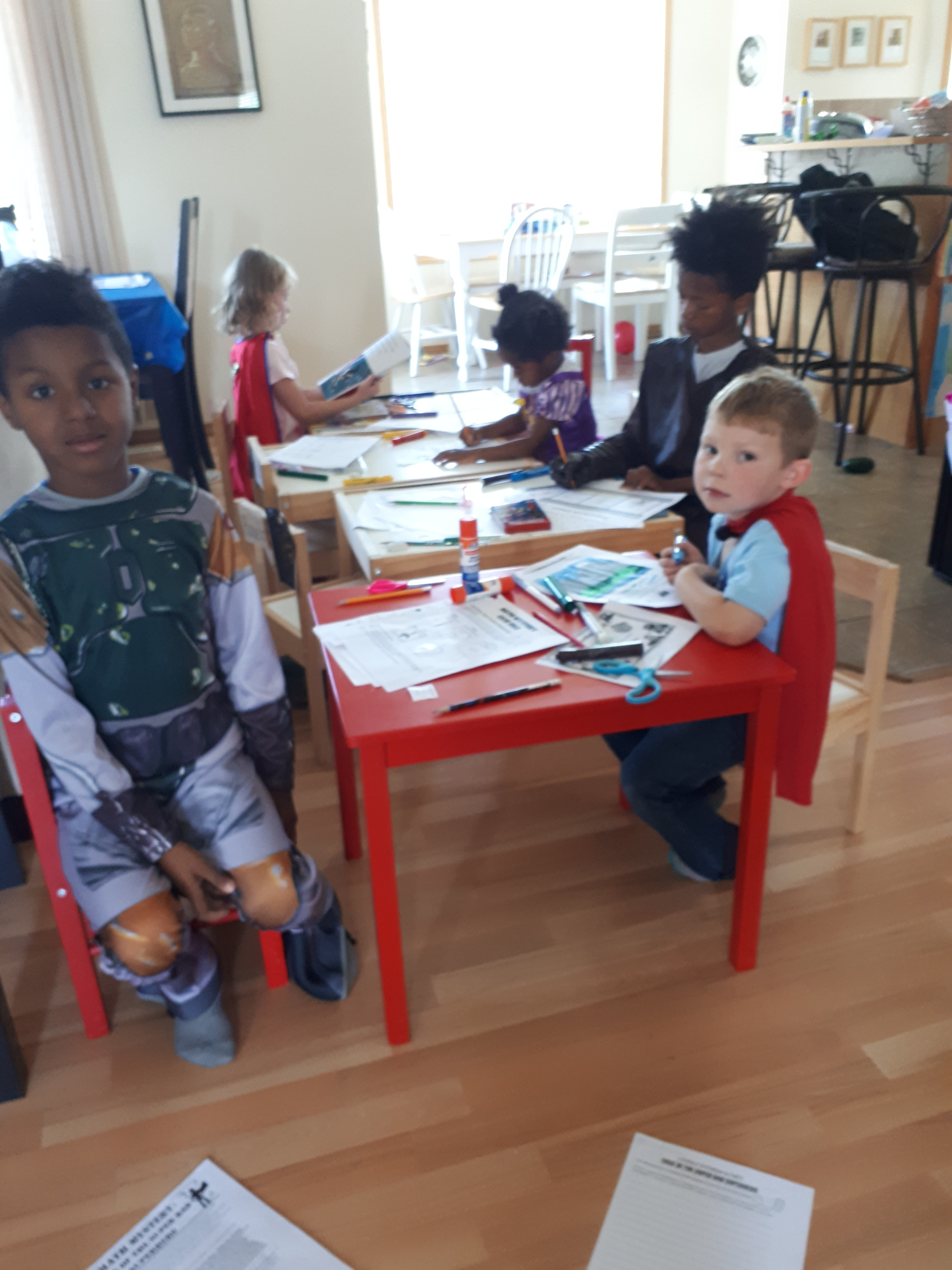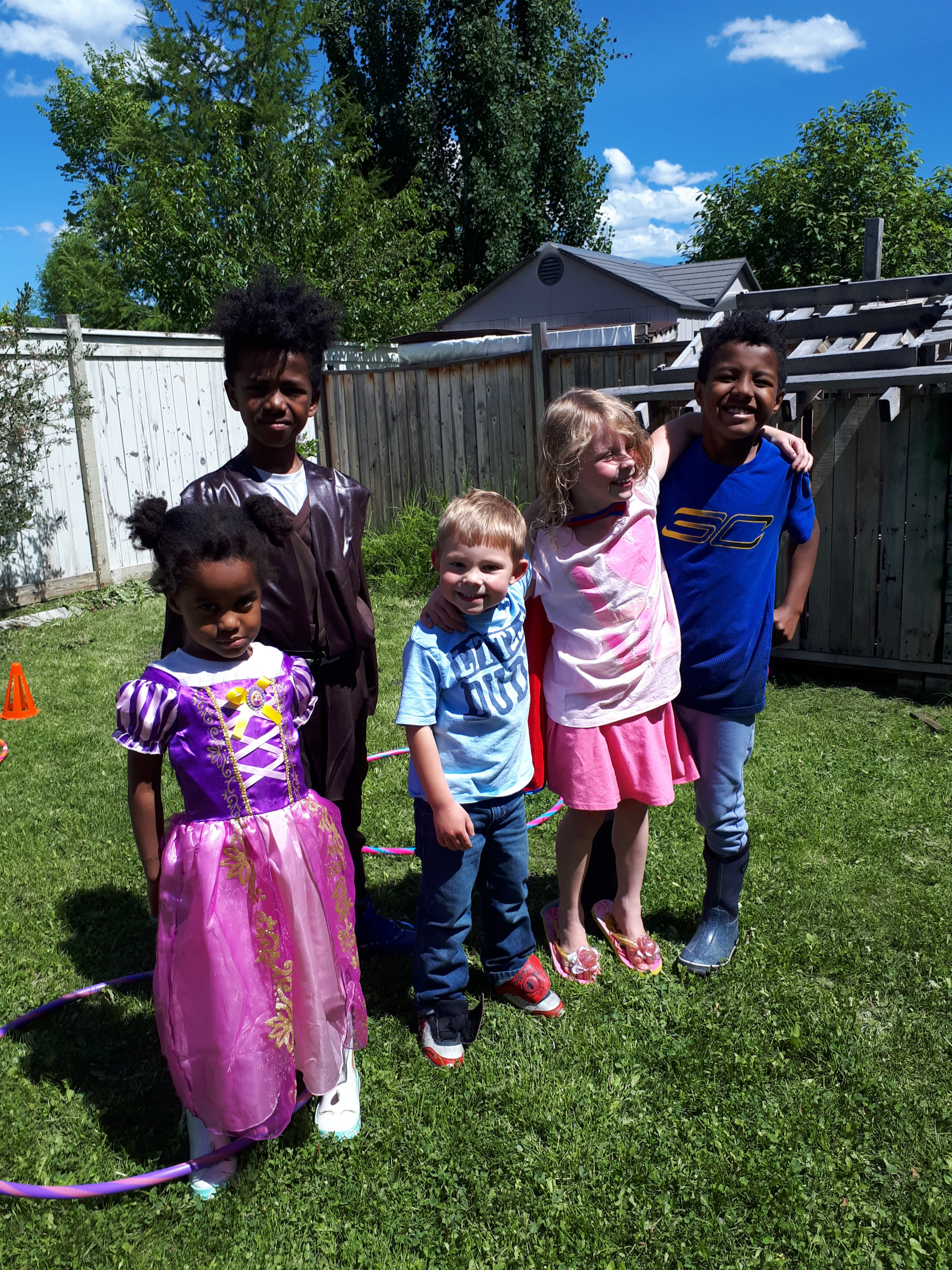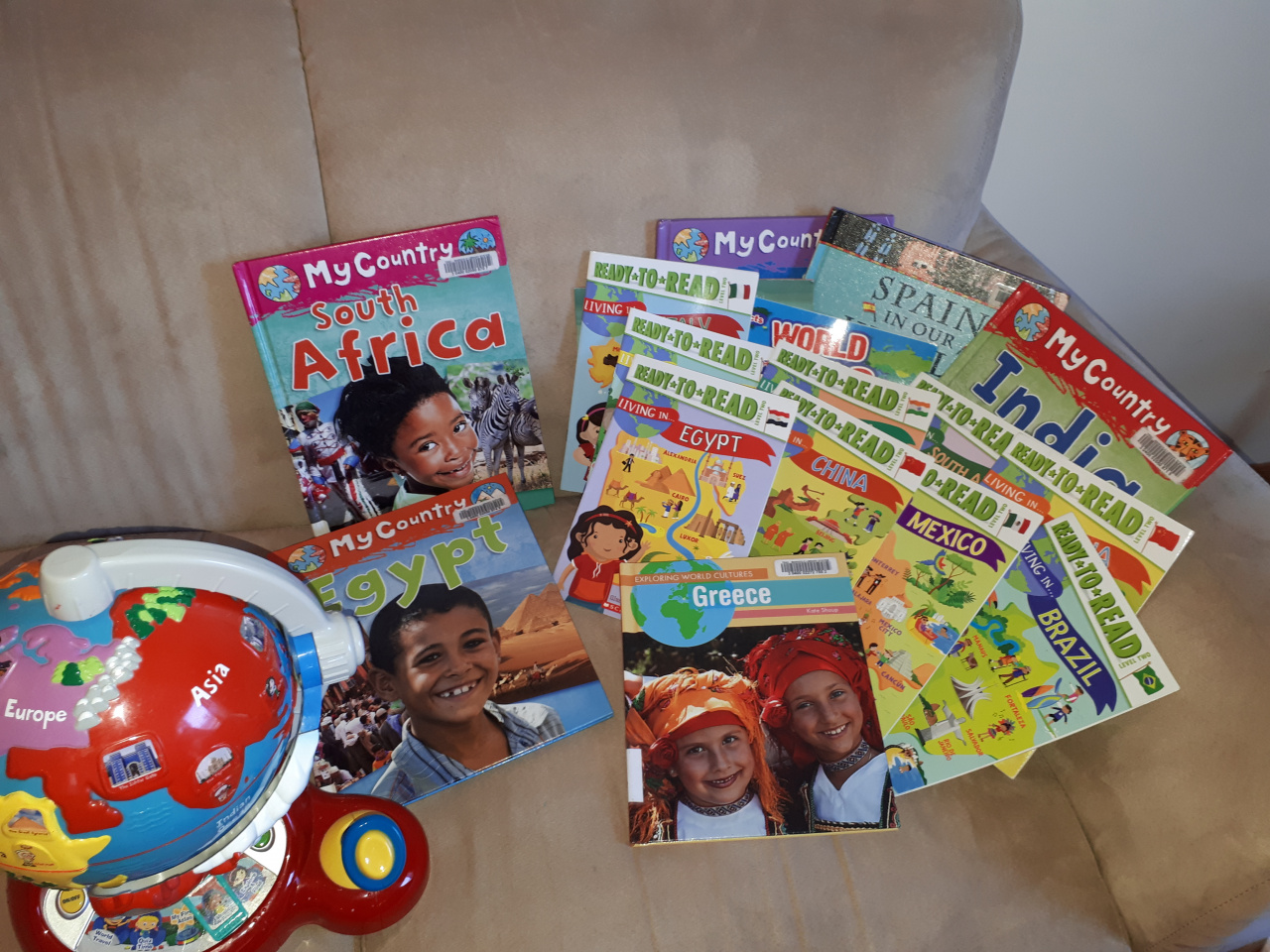 Explore the world and learn about children in different countries!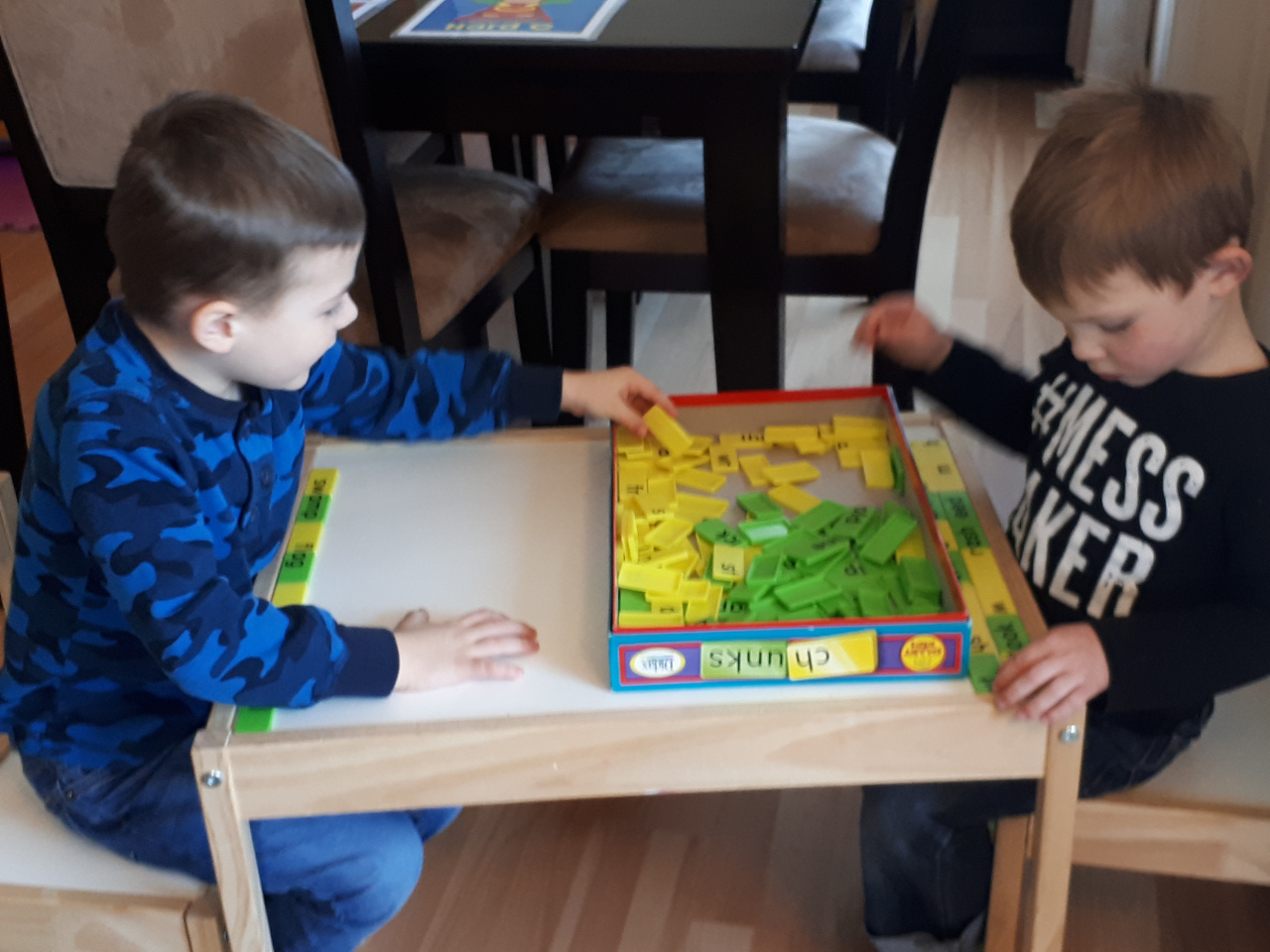 Make new words while practicing spelling!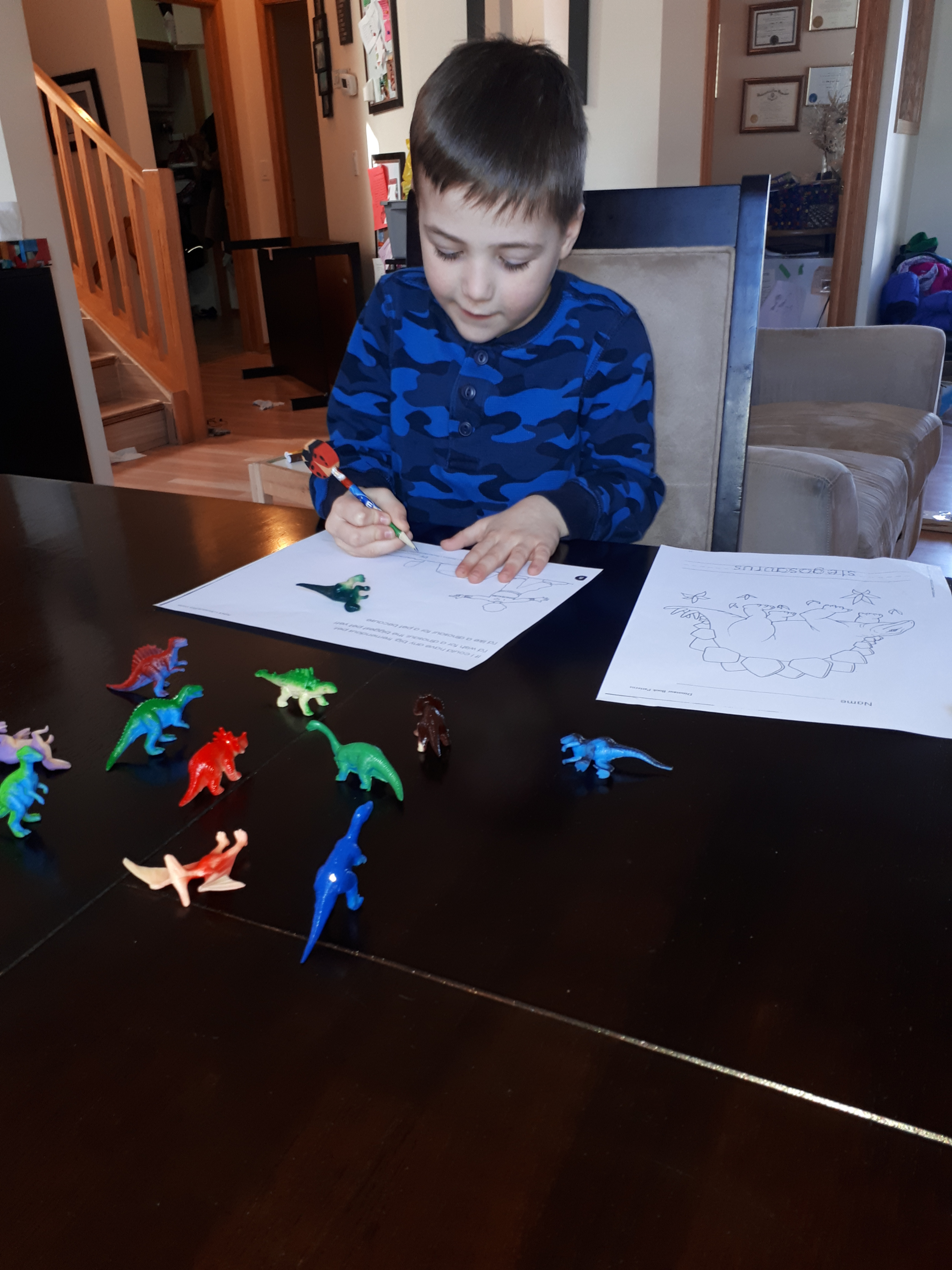 Dinosaur printing!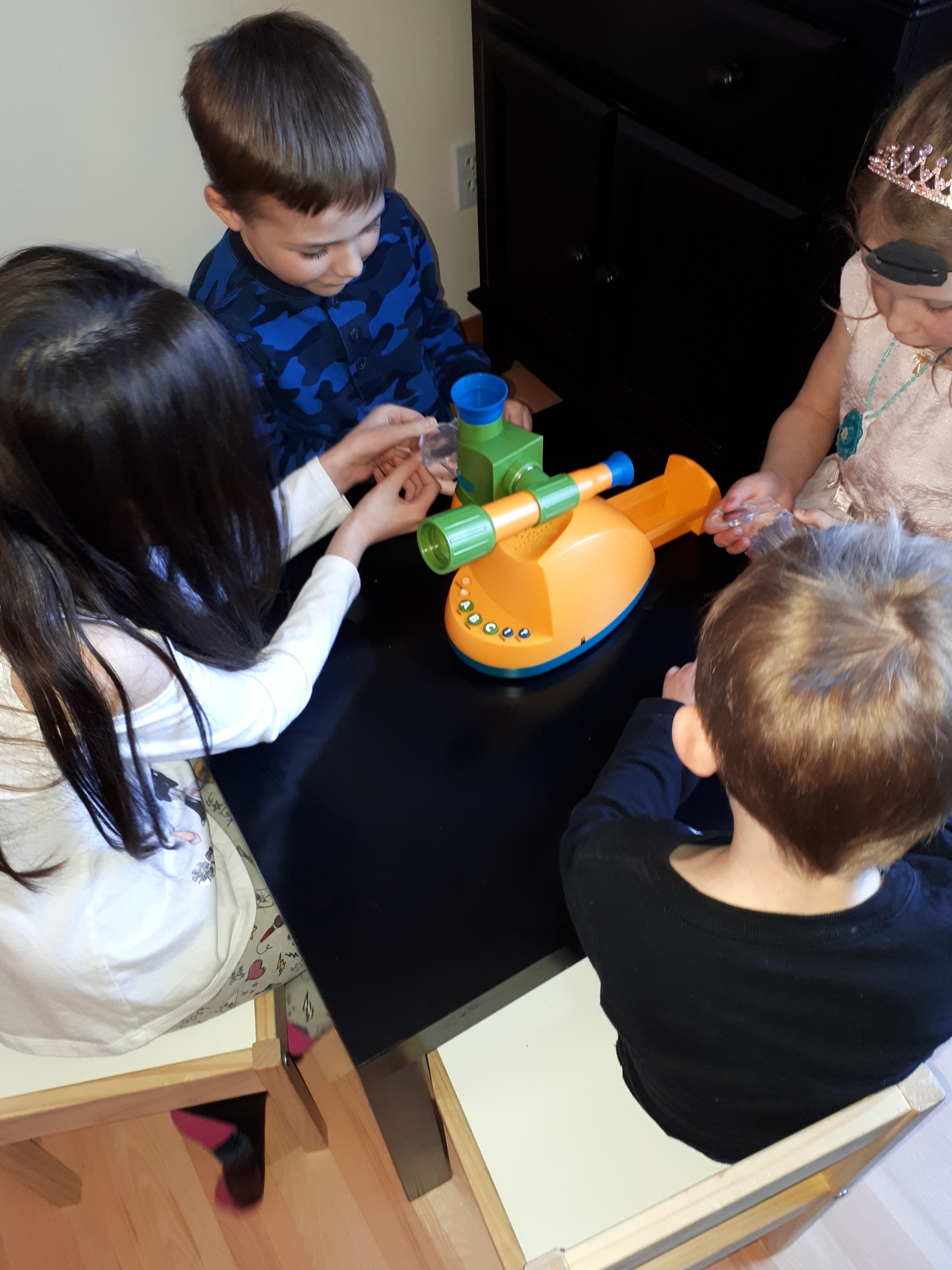 Learn about planets in the solar system with an interactive microscope!
Space bingo!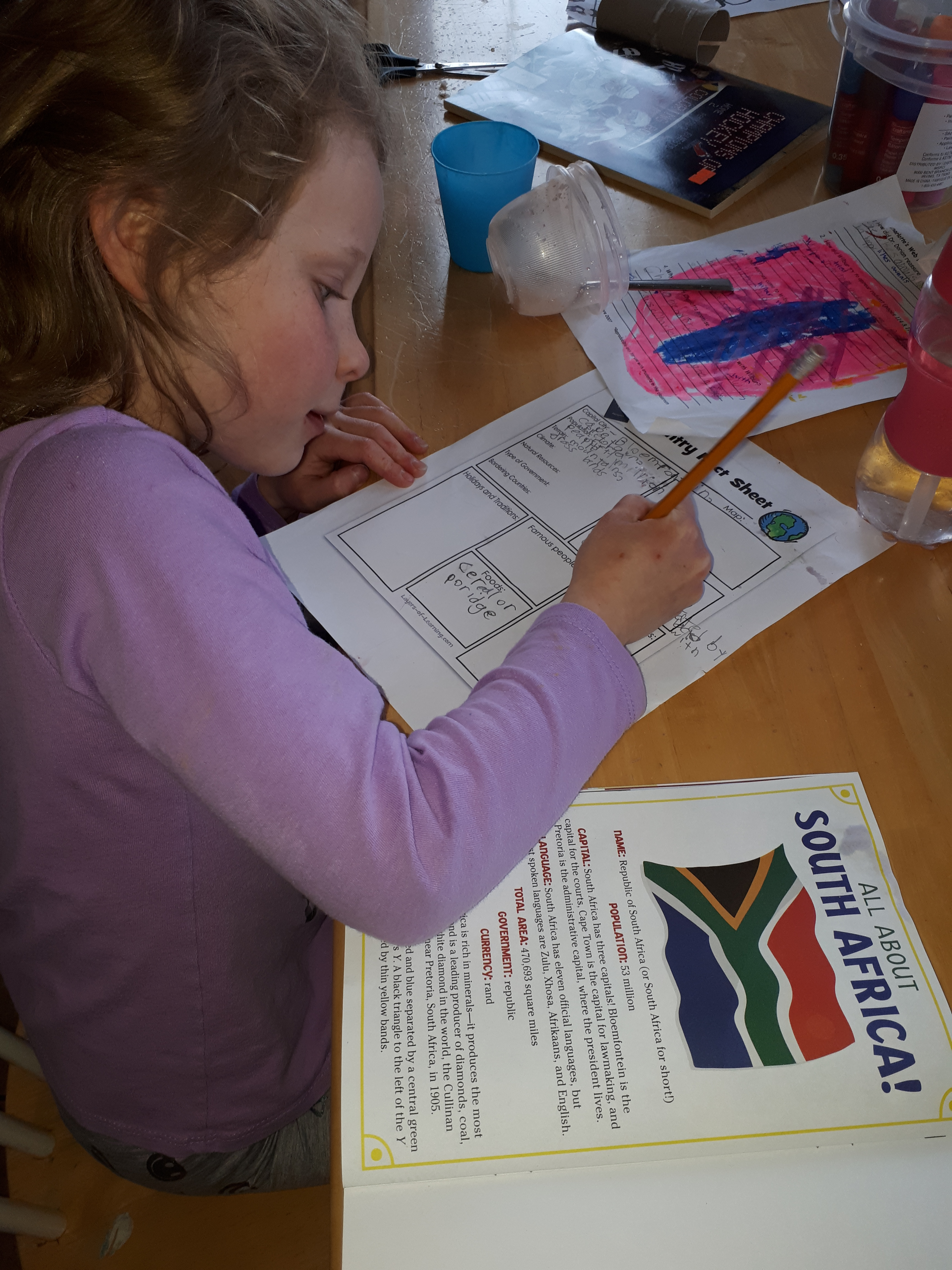 Learning about different places around the world!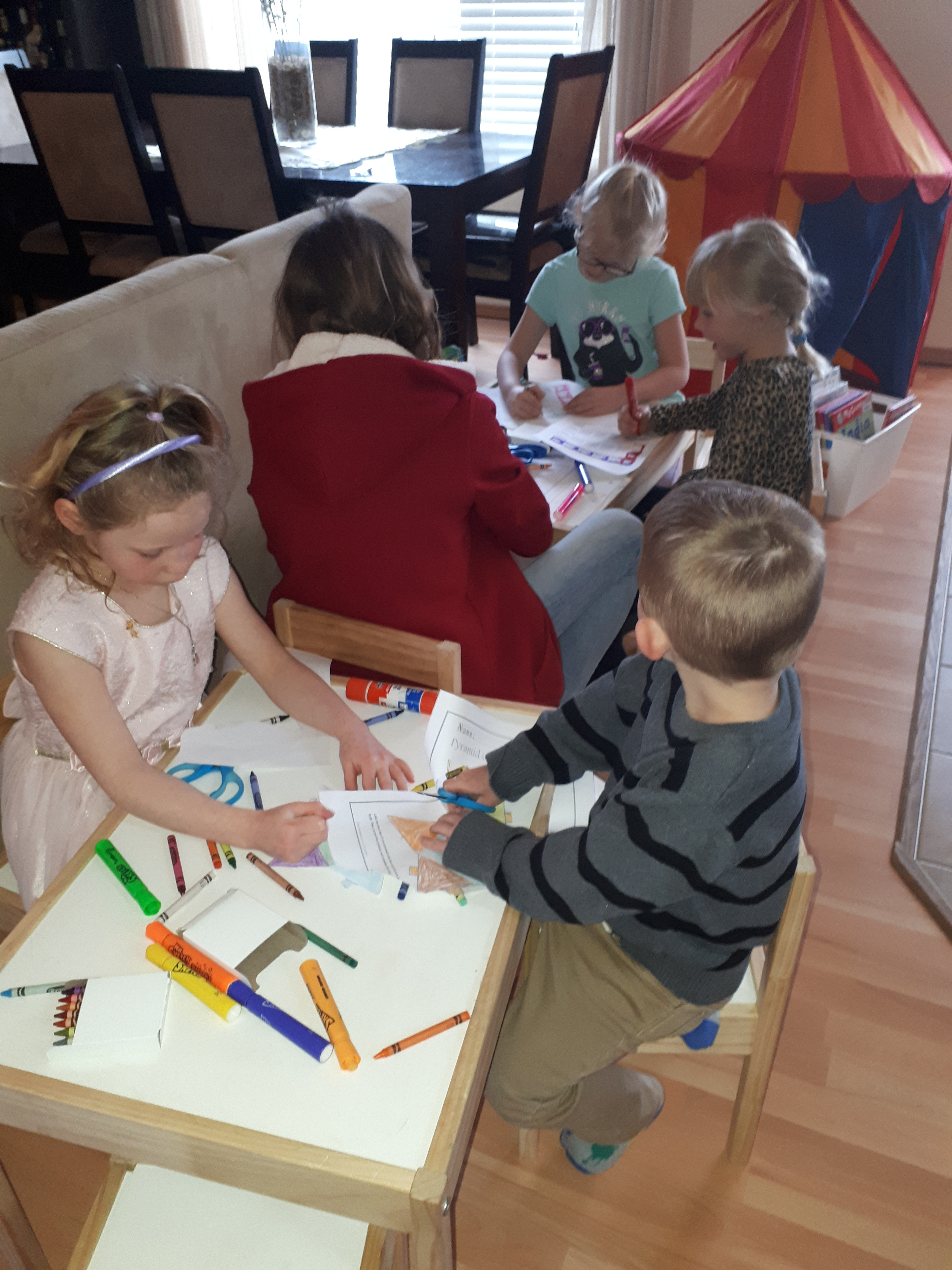 Making new friends!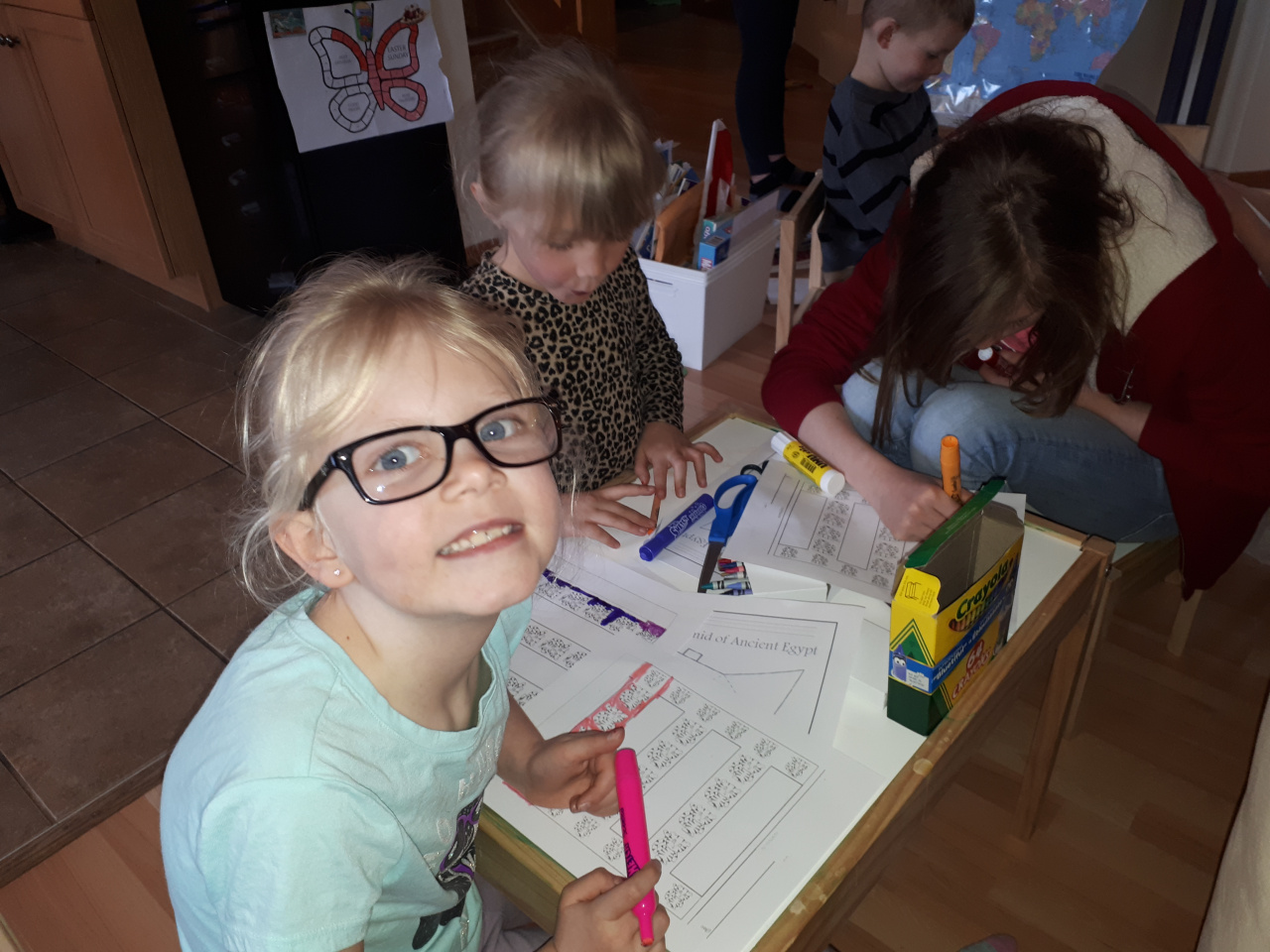 Making a Chinese Lantern!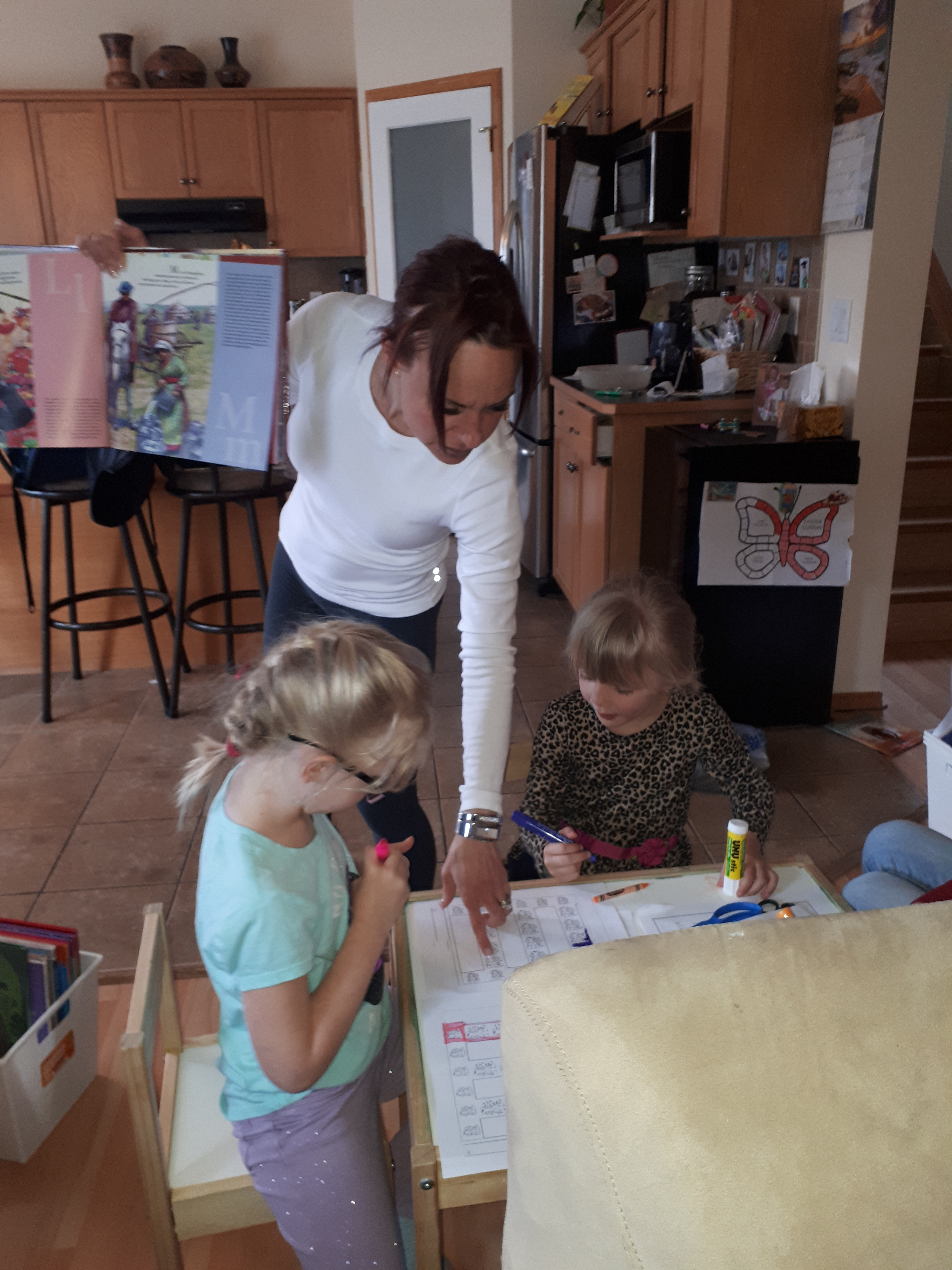 Children are guided through centers by a Certified teacher!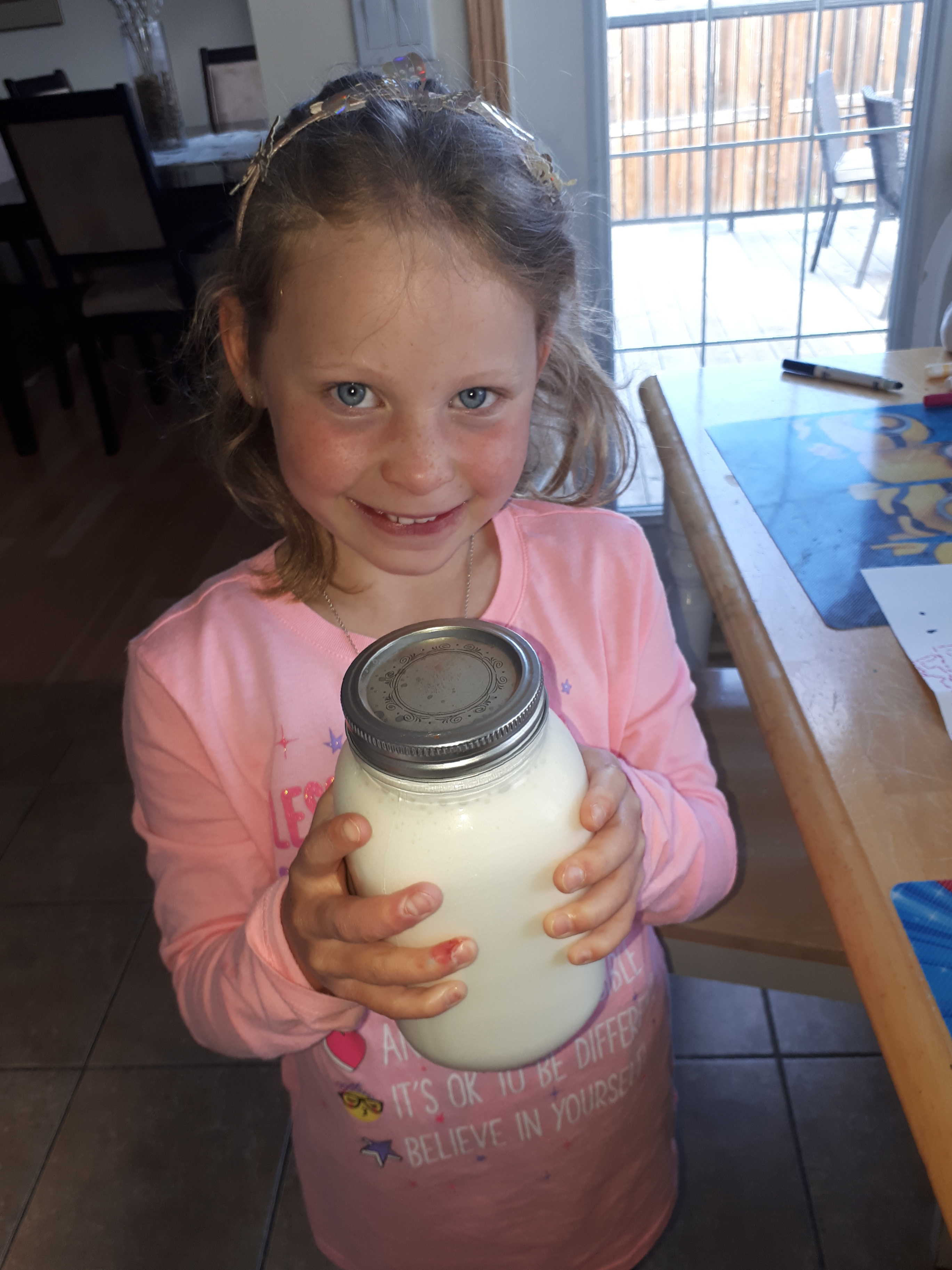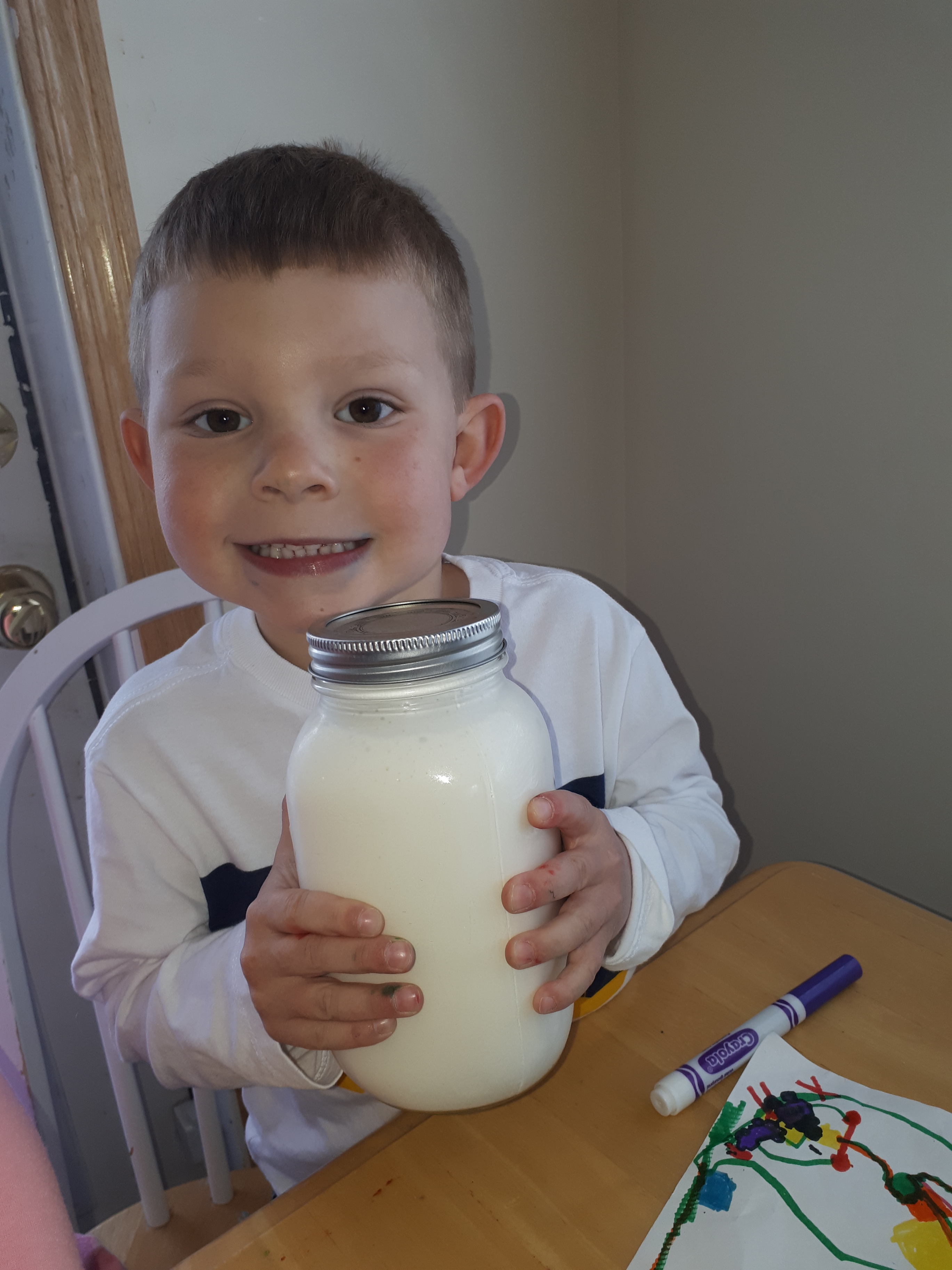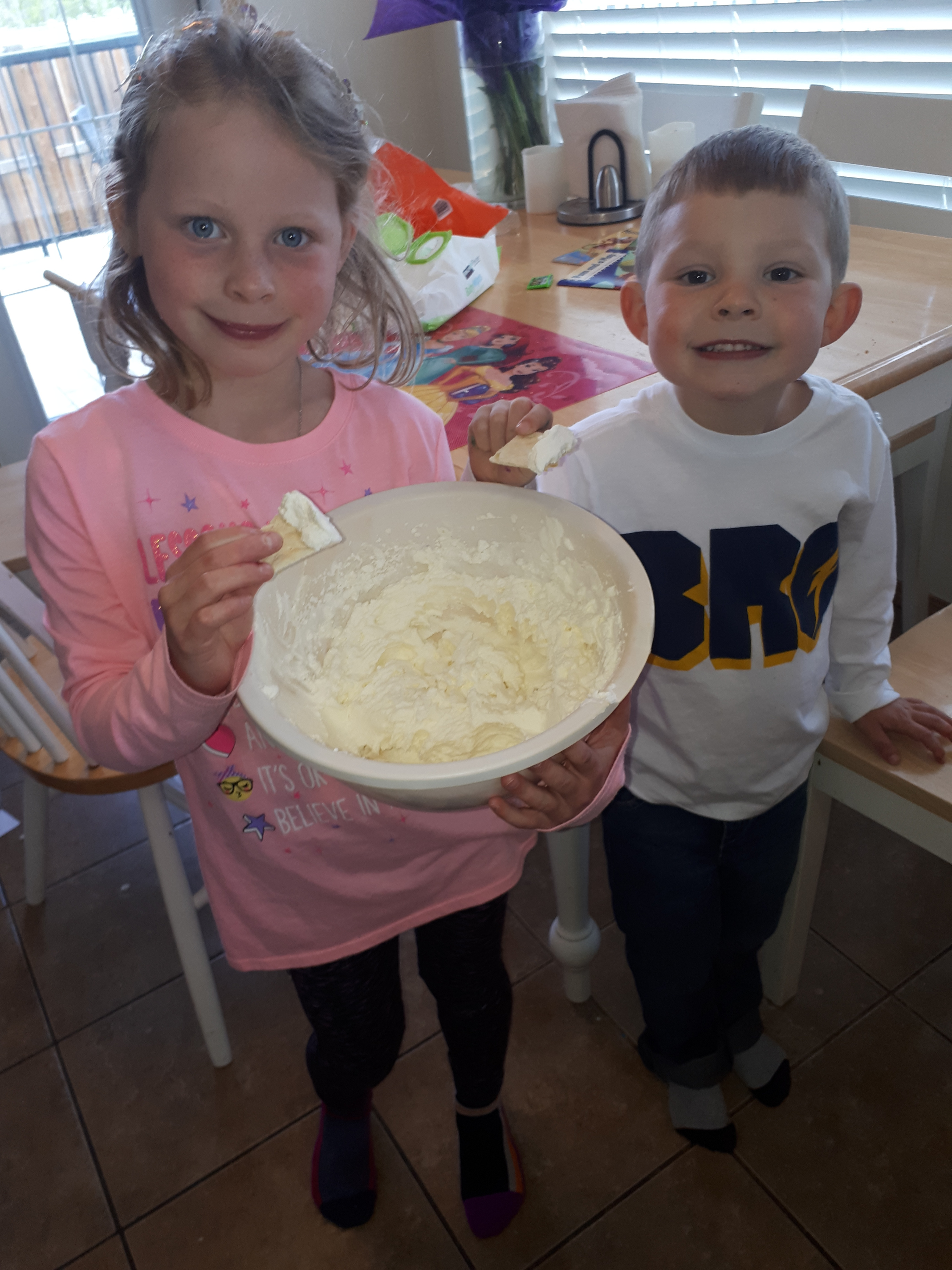 Making butter the old fashioned way!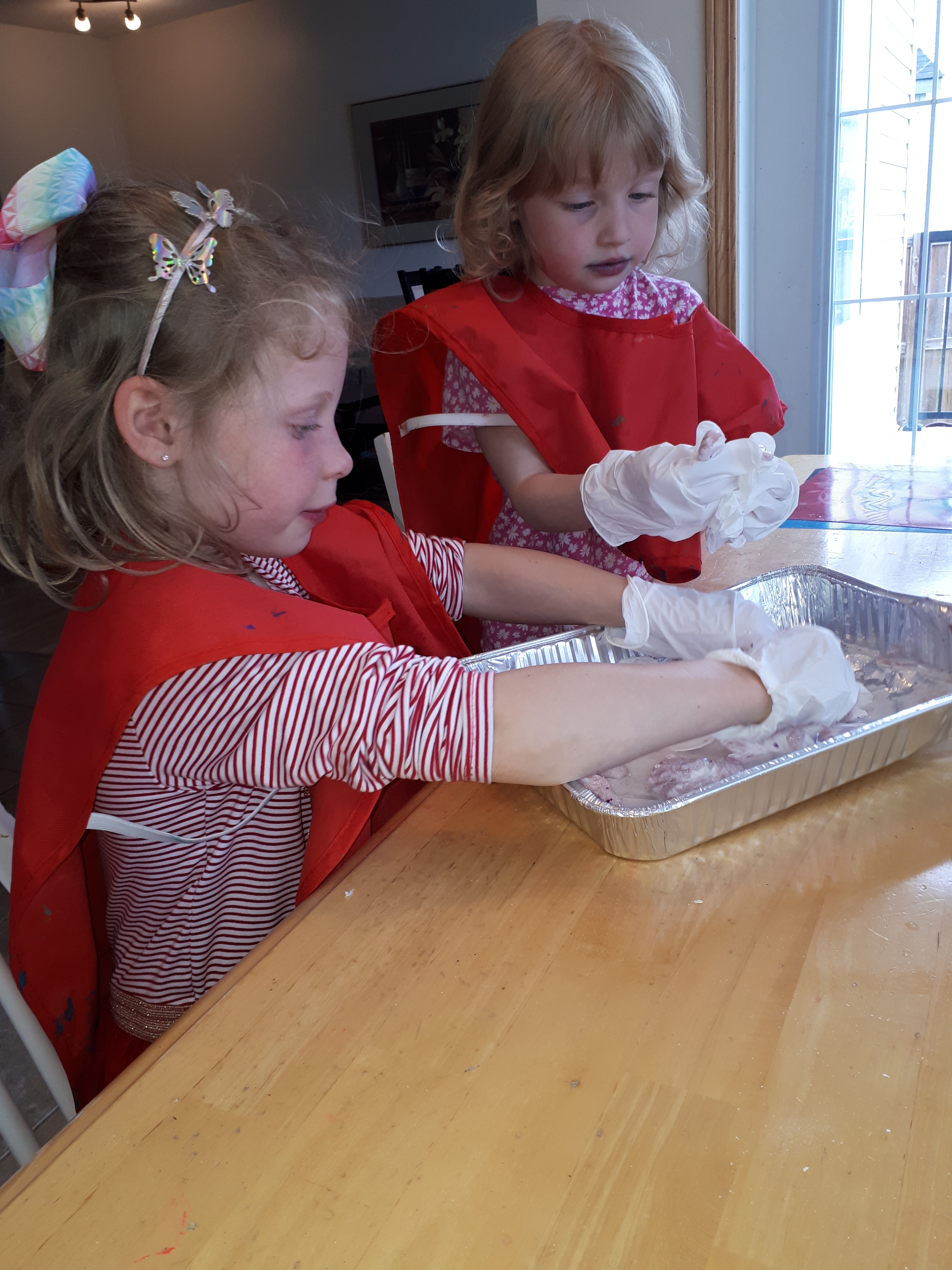 A favorite of all kids, making SLIME!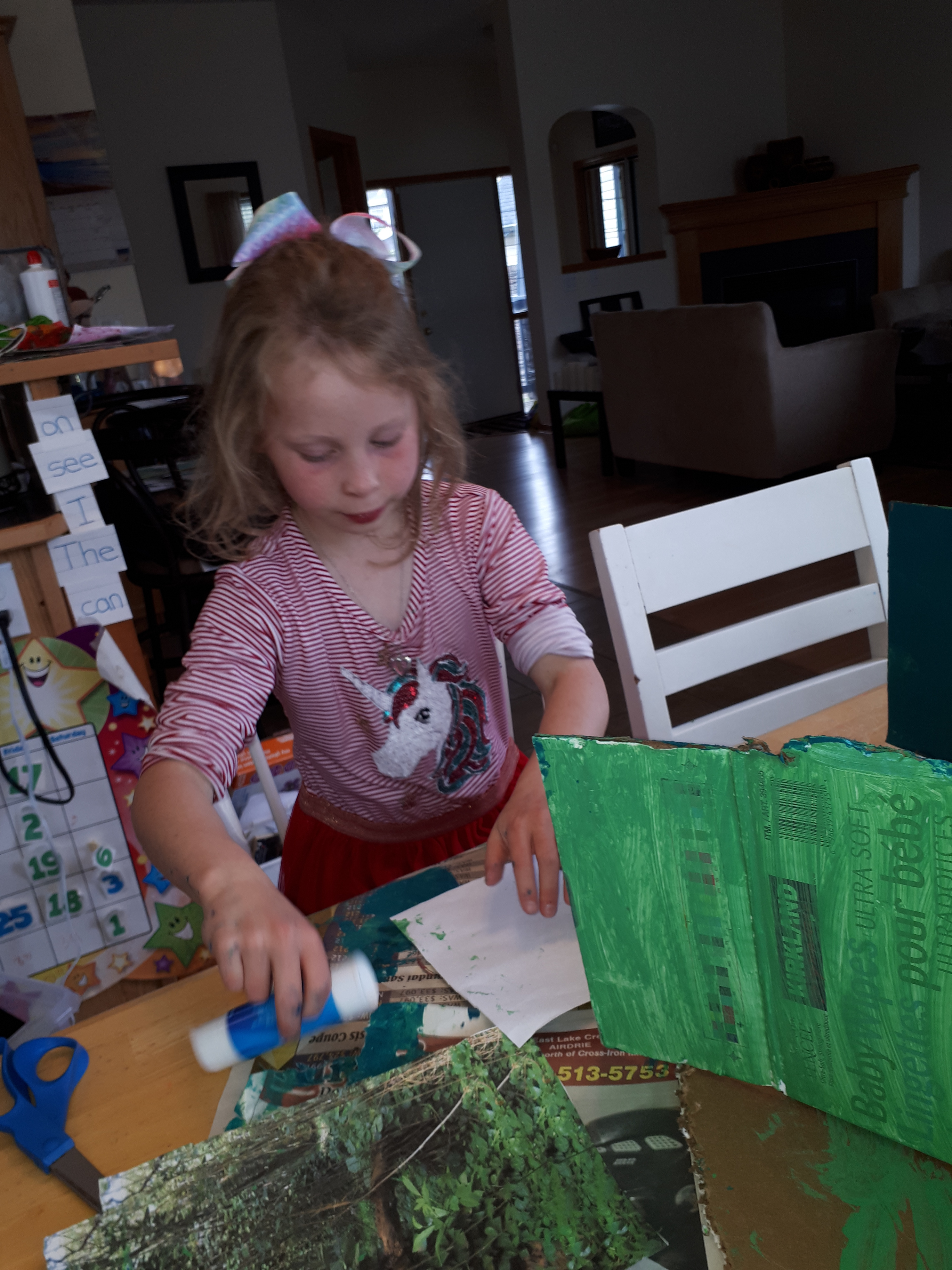 Creating a Rain Forest Diorama!