Christine is highly motivated and committed to producing quality education with children. She has helped my son in grade 7 and my daughter in grade 5, both of which have learning disabilities.
The thing I love most about Christine's work is that empathy and encouragement are the foundational qualities that she uses in her unique approach to help children with individual needs.
Thanks Christine!
- Jenn B.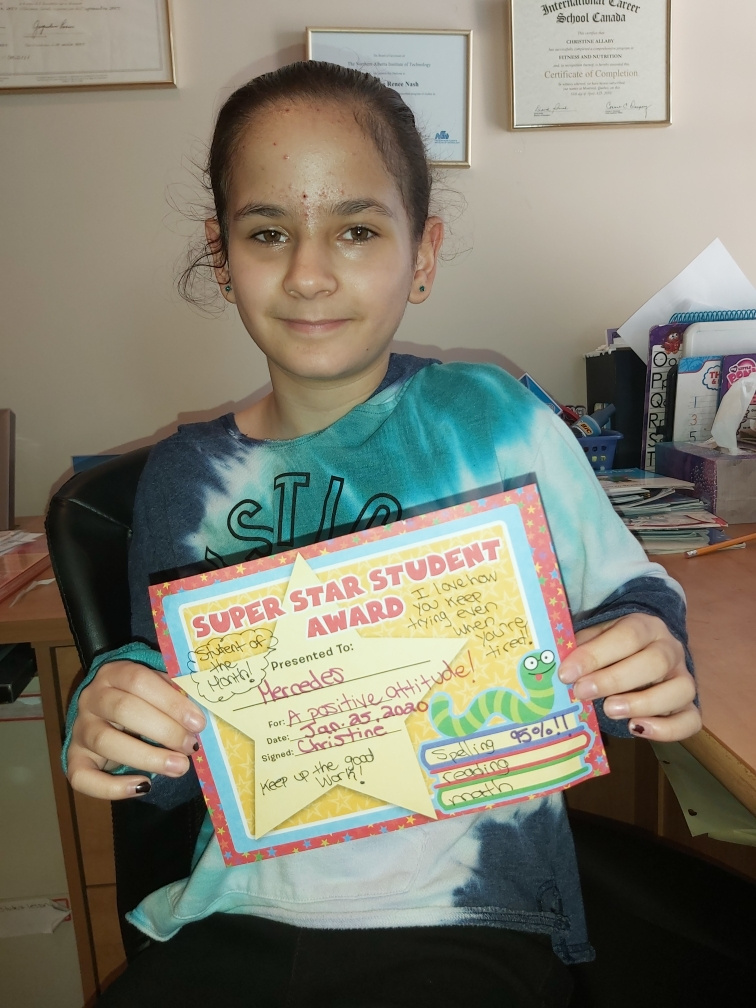 Student of the Month (January 2020)
Christine
You have some very proud parents here! We can't thank you enough for all the help and teaching you have done so far for Mercedes. She loves going to your house and learning. She learns and retains more information in the time she is at your place than a week at school I swear !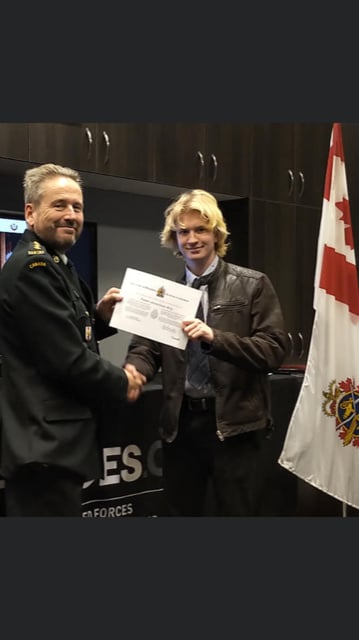 Private Parker Wing.
Thanks Christine for helping our grandson in his elementary years to help him read and understand what he read.
Thanks for giving him the confidence that he was and still is a special person and can accomplish and do whatever he wants to.

Johanna Wing

My son with special needs has been seeing Christine since September. I have already seen an improvement in his reading skills and his self confidence in himself. Last week he was given his first ever school award. It was for courage. His teacher told me she gave it to him because he is trying new things in school. I'm positive it's because of the extra help he is getting from being tutored.

My son started tutoring with Christine approximately one month ago. He was having ongoing difficulties with grasping concepts related to Social Studies, and was extremely frustrated and lacking focus and confidence. He did not believe that he was smart. Since tutoring began, his self esteem has improved and he is actually excited when he talks about what he is learning. He says it is the first time that he feels he truly 'gets it'. Christine has been fantastic about providing help based on the specific learning habits of my son, and is communicative and proactive in terms of extra help for upcoming tests/exams. My son thoroughly enjoys his time with Christine. She makes learning enjoyable, and his marks are improving as a result. I wish I would have found her a long time ago – thanks Christine!
- Sincerely, Kendra L.
MY STEP-SON HAS BEEN WORKING WITH CHRISTINE FOR ALMOST FOUR YEARS NOW. HE HAS SEVERE EMOTIONAL AND MENTAL HEALTH ISSUES ALONG WITH LEARNING DISABILITIES. CHRISTINE WAS ABLE
TO ENGAGE HIM AND MAKE HIS LEARNING MORE LIKE FUN, RATHER THAN WORK. BY DOING SO, HE IS
NOW READING COMPREHENSIVELY AND ACTUALLY ENJOYS MATH AND SCIENCE. SHE GOES ABOVE
AND BEYOND TO ACCOMMODATE OUR FAMILY AND IS VERY SUPPORTIVE. SHE ALWAYS TAKES THE TIME
TO LISTEN, ENCOURAGE AND HAVE FUN WITH THE KIDS. CHRISTINE IS A GEM, WE ARE LUCKY TO
HAVE HER IN OUR LIFE!
-JANA
OUR DAUGHTER HAS ALWAYS HAD PROBLEMS IN MATH, SO WE DECIDED TO GET SOME EXTRA HELP, THAT IS WHEN WE FOUND CHRISTINE. AFTER ONLY SEEING CHRISTINE FOR 4 MONTHS OUR DAUGHTER NO LONGER NEEDED HELP, SHE WAS GETTING EXCELLENT MARKS IN MATH. CHRISTINE OVER EXCEEDED OUR EXPECTATIONS AND WE WERE THRILLED THAT OUR DAUGHTER 1 1/2 YEARS LATER IS STILL DOING GREAT IN MATH. SOMEHOW CHRISTINE TAUGHT THAT MISSING LINK NO OTHER TEACHER COULD.
-DYLAN AND GORD

When we started with tutoring for our daughter a year and a half ago, she was quite far behind. She was starting grade two and had the skills equivalent to a grade one student. Since going to tutoring twice a week, she has excelled in all aspects of school and has begun to get "caught up". Tutoring has also built up her self-esteem and, now she wants to succeed academically.She currently attends tutoring once a week and has become a confident student; academically and socially. She loves reading now, and I'm proud every time she completes a book, or brings home a perfect spelling test. Christine treats our daughter like "her own," and has molded her into an excellent young lady. The one on one tutoring has been the best thing we could have done for our daughter.
-Nicole